Maker Select 3D Printer v2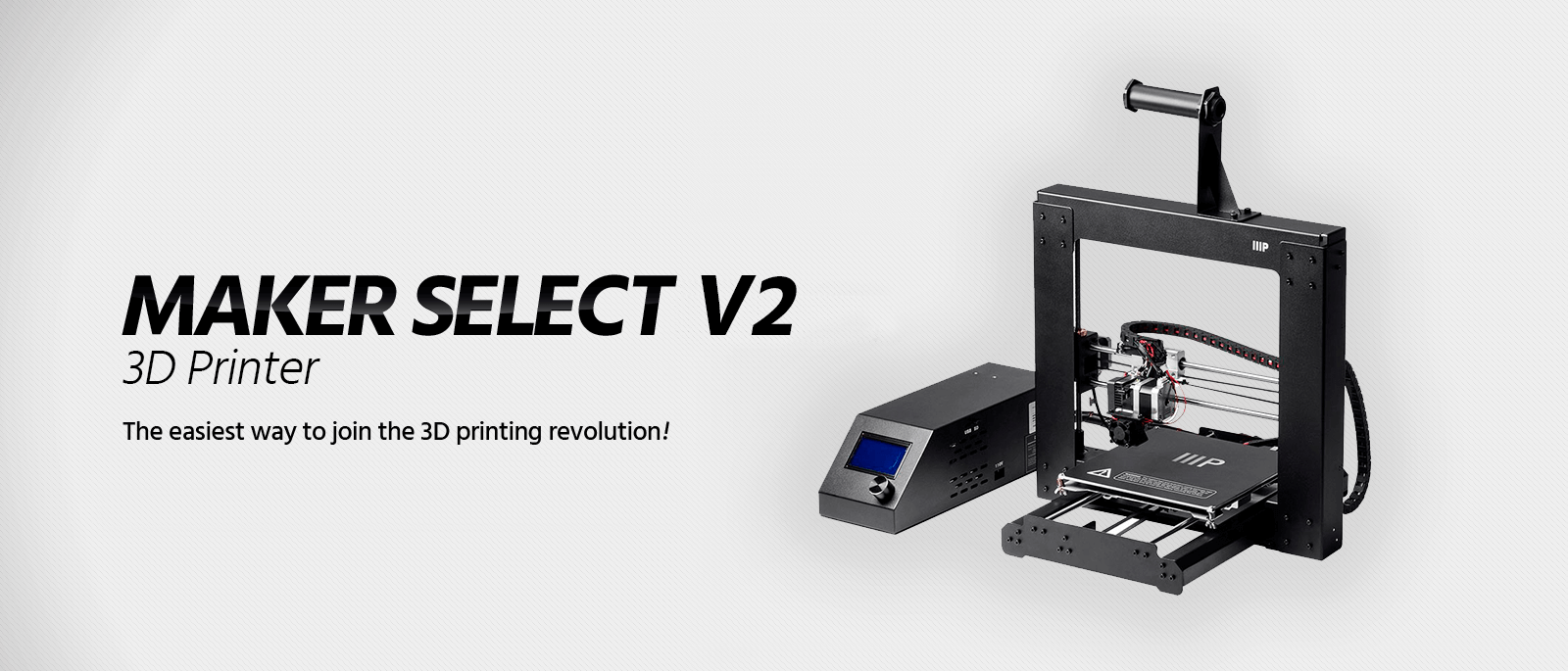 When it comes to choosing a quality 3d printer kit that is simple to use, the Monoprice Maker Select 3D Printer v2 is the perfect place to start. Unlike typical kit-based printers, which  take several hours to assemble and require a certain level of knowledge and experience, the Monoprice Maker Select 3D Printer v2 3D Printer assembles using only 6 screws with printing out of the box in roughly 15 minutes. Monoprice printers are compatible with over 15 types of 3D filament and is one of the most affordable DIY kits. This award winning printer sets it apart as the best in class choice for your 3D printing needs.
Suggested skill level: Beginner-Intermediate.
| | | |
| --- | --- | --- |
| Preloaded with Printable 3D Models | Includes Sample PLA Filament | Ready to Print in 10 Minutes! |
 

Print Now:

This printer comes almost fully assembled, requiring just 4 screws to secure the frame to the base and 2 screws to attach the filament holder. Additionally, the printer comes with everything you need, including sample PLA filament and a microSD card with sample 3D model files, ready to print. Set up takes less than 15 minutes!

A full Reel of filament not included so getting some of your favorite material is recommended. For beginners, we suggest PLA since it's the easiest to print from but if you want to expand your capabilities, you have over 15 types of material to choose from.
Compatible Software:

The ability to use both open-source and commercial software, such as Cura, Repetier, or Simplify 3D, the Monoprice Maker Select 3D Printer v2 3D Printer is extremely user friendly and makes it incredibly simple to work with many platforms. Such as Windows 10 and to get you started, Cura comes standard in the box.
Large Volume:

 

The large 8" x 8" build plate and generous 7" vertical spacing means that you can print larger, more complex models.

At less than the price of new gaming console, give the gift of learning and creativity this year! 

Monoprice Maker Select 3D Printer v2 
A 4GB microSD card with preloaded with printable 3D models comes standard with the printer allowing you to print immediately

Includes sample PLA filament so you can print right out of the box

Heated build plate allows for high-reliability printing of slow cooling materials

Compatible software: Cura, Repetier, or Simplify 3D

Expanded user's manual with detailed, easy-to-follow assembly and usage instructions

Tighten just 6 screws and be printing in 10 minutes

Choose to give the innovative and creative gift of learning while sharing it with others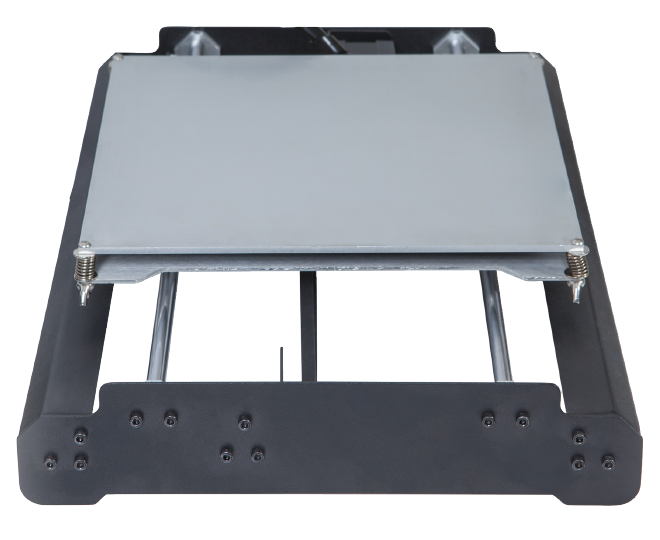 Heated Build Plate
The heated build plate allows you to print slower cooling materials.
MicroSD Card Slot
| | |
| --- | --- |
| | Use a microSD™ card to store sliced GCode files, then plug the card into the microSD card slot to print without the need to connect to a Windows® or Mac® PC. The printer includes a 4GB microSD card with sample 3D models, which you can slice and store on the card for direct printing. |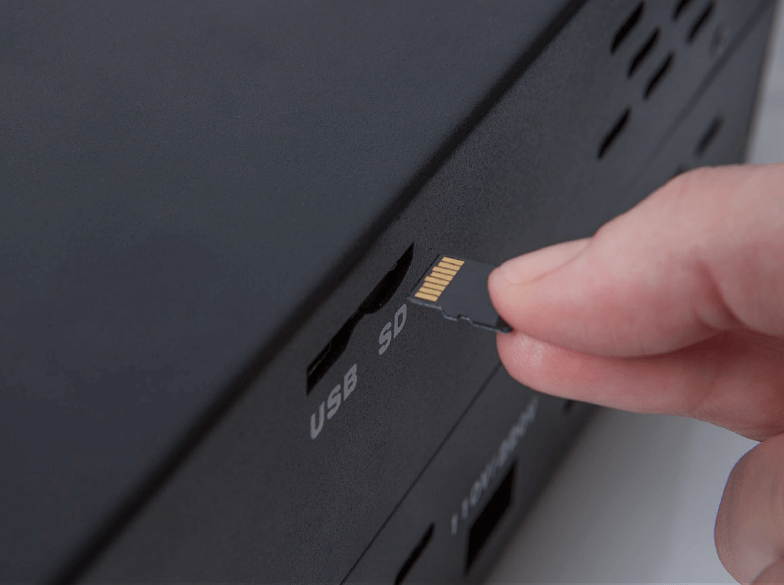 ---
Buy with Confidence

Cayenne Community offers a 30 day money back guarantee. After 30 days, Cayenne community is confident in the quality of our products so we provide a 1 year repair warranty for any manufacturer defects on our printers through Monoprice

Please note, our warranty does not apply to any defects resulting from negligence, misuse, any modifications or enhancements to the product. Any of these will result in a voided warranty, as a result, Cayenne community will no longer offer support and/or returns for these items.
 

Quality at a Fair Price

Cayenne Community selected Monoprice's rugged design and rigid quality control standards deliver high quality products at fair prices.
Service & Support

With Cayenne Community we dedicate ourselves to excellence. We run our set up sessions and Tutorials live on Saturdays and We have the support Monoprice's full team of friendly and knowledgeable technicians available to answer your questions, both before and after the sale. Contact the Monoprice technical support team for questions about our products, troubleshooting, or suggestions for products to fit your particular needs. Their friendly and helpful customer service team is here to make your ordering, delivery, and any possible returns a quick and painless operation, from start to finish!
Heated Build Plate:

Yes

Build Volume:

200mm x 200mm x 180mm

7.87" x 7.87" x 7.09"

Resolution:

100 microns

Speed:

50mm/sec

1.97"/sec

Connectivity:

USB, microSD

Maximum Extruder Temperature:

260°C

500.0°F

Filament Types:

ABS, PLA, XT Copolyester, PET, TPU, TPC, FPE, PVA,HIPS, Jelly, Foam, Felty

Filament Diameter:

1.75mm

Open Source:

No

Skill Level:

2

Power Requirement:

100 - 240 VAC

30-Day Money Back Guarantee:

Yes

One Year Warranty:

Yes

Upgradable Extruder:

No
1x Monoprice Maker Select 3D Printer v2
1x Spool holder
1x Print bed mat
1x Package of hex wrenches
1x AC power cord
1x USB cable
1x Tweezers
1x Scraper
1x Card reader
1x MicroSD™ card with adapter